Where Should I Start My Training?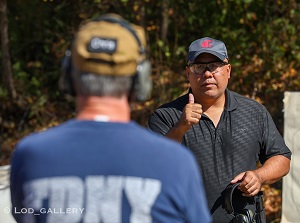 We have starting point classes for Handgun, Rifle, and Shotgun which can be found on our Current Class Offerings page marked Staring Point.
For more info and gear related questions, please see our Frequently Asked Questions and Advice to New Students articles.
For the beginning student the best choice is to start at Level 1: Intro to Handguns followed by the Handgun Fundamentals and Familiarization or Concealed Carry 101, depending on the student's training goals. Our Intro to Handguns class is a mandatory pre-requisite for these classes and is frequently paired up with them on the same weekend to give the student the opportunity to turn Intro to Handguns into a 2-day class with either an extra day of live fire from the bench or a day of live fire from the holster. Please check the individual class pages for more information and available dates.
Our starting point classes for long gun training are Carbine Fundamentals, Rifle Marksmanship Fundamentals, and Intro to Shotgun. 
Intermediate to advanced students may start at Level 2: Defensive Handgun or Weeklong Handgun in our handgun curriculum and FAS 2-Day Carbine, Intermediate Scoped Rifle (Coming soon), or Defensive Shotgun in our long gun curriculum if they have previous experience and/or training relevant to the class. A Concealed Pistol License is required for all Level 2 and higher classes.
Prerequisites apply for Guest Instructors which can be found on their individual registration pages or on the instructor's websites. 
If you have taken previous training from another school, please contact us if you have a question about where to start.