Crime, Conflict, and Interrogation: Navigating the Pitfalls
*This class has been postponed to November 21st & 22nd, 2020. If you were registered for this class prior to April 1st, please check your e-mail for information about the change. Thanks! -Belle*
If you have to use force to defend yourself someone is going to be unhappy with that choice. The legal system will demand you fully explain yourself. If you use a weapon everything you said and did will be mercilessly scrutinized to find fault with your actions.
It's not enough to simply say it was self-defense. There has to be more behind what you did than fear or your imagination. You need to have been in real and immediate danger, but later you will also have to be able to explain how you knew that:
the situation was dangerous
force was necessary
you used the appropriate response for the level of the threat
If you can't do that, you're going to prison. We're here to help keep that from happening to you.
While Crime, Conflict, and Interrogation will teach you how crime happens, we also address more common scenarios. This includes the fact that most violence is between people who know each other. We address types of conflict and the common mistakes that lead to physical violence. These same mistakes will destroy your self-defense claim.
Even if you didn't make any mistakes if you are the victor in a self-defense situation, you will be treated as the 'bad guy'. Mistakes in your actions will be implied during questioning as the authorities try to assign blame. It's imperative you can articulate you didn't make these alleged errors because you knew long before the situation not to take specific actions.
If you use force there will be an aftermath to navigate. Articulation is critical, but the use of industry terms alone is not enough. Creating self-doubt is a common interrogation strategy. Interrogators will often try to undermine your explanations and interpretations. You have to be able to defend the ideas and terms when challenged in this manner.
This course is a life skills class aimed toward keeping you safe long before you are involved in a physical altercation. This class is for shooters, martial artists, and anyone who has any type of self-defense training. Even more importantly—it's for your loved ones who refuse to have weapons as part of their self-defense plans. They'll learn to recognize and avoid developing crime as the trap is set. With this knowledge, they will have more time to keep out of most dangerous situations.
Crime, Conflict, and Interrogation will serve to complement your existing knowledge. Physical skills are critical, but there's more to safety and staying out of prison for defending yourself. We can help.
Prerequisites: None.
Tuition: $400
10% discount for ACLDN Members - Must use code CCI-ACLDN at checkout or call/e-mail to register.
Phone: 360-978-6100 Tues-Fri 0900 to 1600 - E-mail: This email address is being protected from spambots. You need JavaScript enabled to view it.
About the Instructors: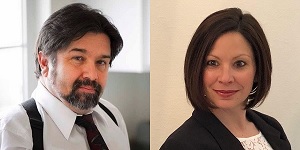 Marc MacYoung is an ex-violence professional, proudly reformed bad guy, and Safety Concepts' voice of experience. He has authored over 30 books and videos about crime, violence, and conflict. He is a court-recognized expert witness on the subjects of self-defense, knife use, multiple attackers, disparity of force, positional disadvantage, and violence reconstruction. His newest venture is Safety Concepts with Jenna Meek.
Jenna Meek is a self-defense author, and certified firearms and Use of Deadly Force instructor. Jenna has authored and published several books and brings an impressive resume of formal training. She runs publishing and defensive firearms businesses with her husband in addition she has partnered with Marc MacYoung to form Safety Concepts.
Details
| | |
| --- | --- |
| Event Date | 11-21-2020 9:00 am |
| Event End Date | 11-22-2020 6:00 pm |
| Registration Start Date | 11-07-2019 |
| Capacity | 21 |
| Cut off date | 11-20-2020 1:00 pm |
| Individual Price | $400.00 |
| Location | Firearms Academy Range |
Venue - Firearms Academy Range
Please note that this is a private range.  There is no public access, other than for scheduled classes / events.  Contact us for driving directions, information about the range, or lodging recommendations.