Kinetic Consulting NVG1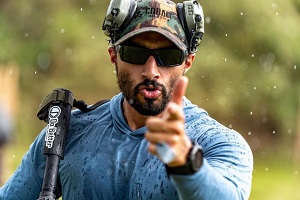 Learn from what night vision is and how it works to the application. This class bridges the performance and defensive worlds of shooting. You will go fast, you will get better, and you will have fun.
(2 Nights, 16-18 hour class)
Registration though Kinetic Consulting
https://www.kinetic-consulting.net/product-page/night-vision-level-1
Photo Credit: Patrick Roberts (Symposium 2021)
Outline:
Safety
How night vision works
Helmet and gear setup
Zeroing laser devices
Efficient and consistent Fundamentals
Reloads in the dark
Malfunctions in the dark
Cover/Shooting Positions
Target Transitions
Low light/No light shooting techniques
Performance-based Movement
COST: $550 (Registration is through the instructor's website. A $40 per person, per day, range fee is due to FAS the first day of class)
https://www.kinetic-consulting.net/product-page/night-vision-level-1
REQUIRED EQUIPMENT
Helmet Mounted Night Vision (Gen 2 or better) RENTALS LIMITED Ear and eye protection
Duty rifle with a white light, IR aiming device (DBAL A3, PEQ, MAWL), and sling
Red dot equipped handgun (caliber: 9mm or larger) with a holster 3-5 mags for each firearm
1000 rounds of ammunition Rifle
500 rounds of handgun
1-2 mag pouches
Water Spare Batteries
Handheld light
Personal Individual First aid kit (Gear to be used on you)
Marker
Notepad
Additional but not required equipment:
Knee pads
Spare Firearm
Snacks/Food
Cleaning kit w/ oil
Headlamp
Rain gear and/or sunscreen (depending on weather)
Pre-Requisite: Prior handgun and rifle training is recommended.
About the Instructor:
JON "MOCHABEAR" DUFRESNE – OWNER & LEAD INSTRUCTOR OF KINETIC CONSULTING
Jon served with 3rd Battalion, 75th Ranger Regiment, deploying multiple times in various capacities. The Ranger Battalion also provided Jon with training and first hand experience in small unit tactics, airborne operations, field medicine, breaching, foreign languages and small arms.
Upon leaving the Army, Jon worked in executive protection and acted as a law enforcement consultant, molding his military experience into a contextual view of the threats faced outside of combat environments. Jon comes to the firearms industry with an ideal blend of military and citizen; shaping his courses to apply to Mil, LE and citizen students alike.

Venue - Firearms Academy Range
Please note that this is a private range.  There is no public access, other than for scheduled classes / events.  This email address is being protected from spambots. You need JavaScript enabled to view it. for driving directions, information about the range, or lodging recommendations.