Level 1: Concealed Carry 101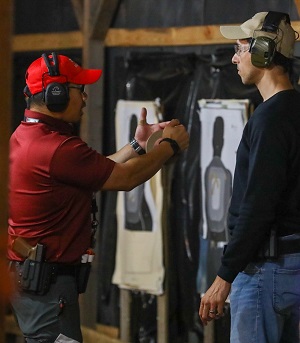 Concealed Carry 101 was born out of the need to quickly and efficiently get students "up and running" with self-defense and concealed carry handgun skills. We frequently pair this class on a weekend with our Level 1: Intro to Handguns class, which is the mandatory pre-requisite for this class, to give students an opportunity to train for an entire weekend. The Intro class covers legal use of force in self defense along with fundamentals of marksmanship and basic handgun manipulations from the bench. Concealed Carry 101 is done from the holster and is where students are first introduced to drawing from a holster in our program. Students may also enter our curriculum at Level 2: Defensive Handgun but are required to already have a concealed pistol license and at least some experience drawing from a holster.
Information covered in this class includes: holster selection and carry methods, drawing from concealment, ammunition selection, and a variety of handgun manipulation and marksmanship skill building drills.
Prerequisites: Completion of FAS Level 1: Intro to Handguns. Students in this class will be required to sign a statement that they are legally entitled to own handguns prior to participation.
Tuition: $250
$50 discount for retakes. Must register by phone to receive discount.
If you have any questions about this equipment please contact us so we help you obtain the right gear for the class.
Concealed Carry 101 Equipment List:
Your own gun (must be a revolver or semi-automatic pistol of 9mm caliber or larger).
At least two magazines or speedloaders for your gun. You need to have enough to bring 30+ rounds to the line.
200 rounds of full metal jacket (FMJ) or jacketed hollow point (JHP) ammunition.
PLEASE BE SURE YOUR HOLSTER MEETS THESE REQUIREMENTS: A belt holster (range holster or high quality concealment holster) with covered trigger guard designed to be worn on your strong side (right handed persons wear on right hip) attached to a sturdy belt threaded through trouser belt loops. Holster used must be rigid and remain open after the gun is withdrawn. (Please, no fanny packs, purse holsters, shoulder holsters, small-of-the back holsters, appendix holsters, or holsters made of such a soft material that they collapse when the gun is withdrawn).
Ear muffs for hearing protection, wrap-around impact-resistant eye protection and a billed cap
A vest or large overshirt to serve as a cover garment.
A pen and notebook.
Please bring a sack lunch and beverages--we will eat during classroom lecture.
Wear clothing and shoes suitable for spending long periods of time outdoors during the season in which your class is scheduled. Ranges are covered and graveled.
Details
| | |
| --- | --- |
| Event Date | 04-07-2024 9:00 am |
| Event End Date | 04-07-2024 5:00 pm |
| Capacity | 12 |
| Cut off date | 04-06-2024 11:55 pm |
| Individual Price | $250.00 |