Level 1: Handgun Fundamentals & Familiarization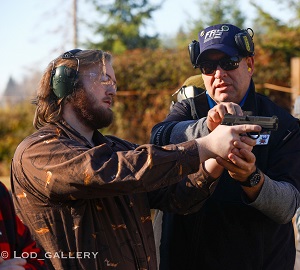 Continuing where our Level 1: Intro to Handguns class left off, this class focuses on marksmanship fundamentals and manipulations of defensive handguns. We will be working from the bench so a holster is not required. This class is for those students who want a refresher or to get more familiar with basic manipulations and fundamentals before continuing their training.  We will be on the range for the majority of class focusing on safety, handgun manipulations, accuracy, and other skills that will prepare students for future classes.
We frequently pair this class on a weekend with our Level 1: Intro to Handguns class, which is the mandatory pre-requisite for this class, to give students an opportunity to train for an entire weekend. After this class, the next step would be Level 1: Concealed Carry 101 when you feel you are ready to start working from a holster.
Topics of instruction include: Firearms safety, types of handguns, loading and unloading, reloads, eye dominance, stance, grip, sight alignment, trigger control, follow through, presentation from ready positions.
Prerequisites: Completion of the FAS Level 1: Intro to Handguns. Students in this class will be required to sign a statement that they are legally entitled to own handguns prior to participation or have a valid Concealed Pistol License.
Tuition: $175
$50 discount for retakes. Must register by phone or e-mail to receive discount.
Equipment List:
Your own gun (must be a revolver or semi-automatic pistol of .380 caliber or larger).
Two magazines or speedloaders for your gun.
250 rounds of full metal jacket (FMJ) or jacketed hollow point (JHP) ammunition.
Ear muffs for hearing protection
Wrap-around impact-resistant eye protection (Side shields are available for prescription glasses)
A billed cap
A pen and notebook.
Please bring a sack lunch and beverages--we will eat during classroom lecture.
Wear clothing and shoes suitable for spending long periods of time outdoors during the season in which your class is scheduled. Ranges are covered and graveled.
Details
| | |
| --- | --- |
| Event Date | 10-08-2023 9:00 am |
| Event End Date | 10-08-2023 5:00 pm |
| Capacity | 10 |
| Cut off date | 10-07-2023 11:55 pm |
| Individual Price | $175.00 |