Level 1: Intro to Handguns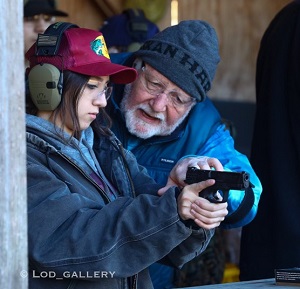 *Please sign up online through the registration links below*
Students in the Intro to Handguns class have the opportunity to learn vital information on deadly force laws and the state laws regarding ownership and possession of handguns, along with learning the basics of how to handle and shoot your handgun safely and competently.
If you already own a handgun, we hope you will attend this valuable class to learn how to be a safer gun owner, and master the fundamentals of marksmanship. This class is also a pre-requisite for our other Level 1 Handgun classes Handgun Fundamentals & Familiarization and Concealed Carry 101 which are frequently paired with an Intro class to give students the opportunity of turning the 1-day class into an entire weekend of training.
Additional information for this class and all of our classes can be found on the Advice to New Students and Frequently Asked Questions ages.
If you do not already own a handgun, we have a limited amount of loaner guns available for you in both .22LR and 9mm. Please select the appropriate option when checking out.
Handgun Selection 5pm-6pm after class: $20 The goal of this extra session is to help our students find a handgun that will best serve their needs and fit them properly. There will be about ten excellent self-defense handguns available to shoot as well as time to ask extra questions to the instructors. This add-on costs of $20 is to cover the cost of ammunition and can either be added to the tuition at check out or paid in cash at the end of class.
This is an adult level course. Students must be 18 years of age or older, free of criminal background, and legally able to own or be in possession of handguns. Students must sign a statement confirming that they can legally possess guns before participating in the class. The student must complete the 3 hour classroom session before going to the range for the live-fire training. Please arrive by 9:45 a.m. as class start promptly at 10:00 a.m., and will run until approximately 5:00 p.m. FAS is located approximately 2 1/4 hours south of downtown Seattle and 1 3/4 hours north of Portland. Please give yourself a little extra time in case you make a wrong turn and arriving early is always appreciated. Print and bring the map sent with your confirmation letter as cell service is lost shortly after getting off the freeway.
Pre-enrollment is strictly required: It is not okay to just show up. You must pre-register. Links to register for each class date are below. The classes fill very quickly so we recommend registering well in advance. Confirmation information will be sent to you by e-mail before your class, including a map to our location along with any other information you need before attending class.
Please note:
Women who are pregnant or nursing may not participate in live-fire training, due to risks from lead exposure and loud noise.

Each student will be required to sign a statement that they are legally entitled to own handguns prior to participation in the class. Thus, this class is not appropriate for individuals required to complete court-mandated or court-ordered firearms safety training.
TUITION: $125 ($100 per student if registering as a group. You must register as a group online to receive the discount)
If the group registration option is not available or it will not let you complete your registration, it means there are not enough spots left in the class.
What to bring:

Students should bring their own good quality handgun in a secure carrying case and 50 rounds of full metal jacketed (FMJ) factory ammunition (Brass cased is preferred but steel or aluminum cased ammunition is acceptable for this class). Unless the student has a license to carry a concealed handgun, the gun must be transported unloaded in a case or other opaque, secure container, out of their immediate reach while in their car. Student should also bring wrap-around eye protection, hearing protection, and a brimmed ball cap, as well as their lunch, beverages, and note taking material.
Details
| | |
| --- | --- |
| Event Date | 05-27-2023 10:00 am |
| Event End Date | 05-27-2023 6:00 pm |
| Capacity | 14 |
| Cut off date | 05-25-2023 1:00 pm |
| Individual Price | $125.00 |
Group Rate
| #Registrants | Rate/Person ($) |
| --- | --- |
| 2 | 100.00 |