Survival Skills are Learned Through Hands-on Training
At The Firearms Academy of Seattle, Inc. we believe safety begins with the individual. A career law enforcement officer, Owner/Founder Marty Hayes knows that the police can't protect you. YOU alone must be able to protect yourself if you expect to survive an assault on your life or the lives of your loved ones.
The quality of instruction at any self-defense school and the students' resultant skill level, depends on the qualifications, background, experience and teaching skills of the instructors. If you are interested in firearms training but are not sure which class is appropriate for your skill level, please consider the information on our page entitled "Where to Start."
Since 1987, Marty Hayes has devoted his efforts to teaching firearms safety, competency and survival skills, with the F.A.S. staff teaching thousands of Pacific Northwest citizens and law enforcement professionals the most current, effective and proven life saving skills possible. Many of our instructors are certified law enforcement instructors, all are graduates of Massad Ayoob's classes and most are cross-certified to teach in various disciplines. In addition to FAS classes, we host guest instructors who are among the top instructors in the world, in order to expand your training opportunities.
A training environment that enables the student to maximize his or her training hours is of great importance. Real world dangers present themselves in a 360-degree panorama -- not only the down-range orientation of the common firing range training venue. At F.A.S. we move the student into less-static training drills as early in the curriculum as it is safe and productive to do so.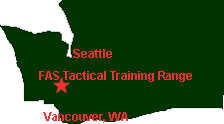 In 1994 F.A.S. purchased land halfway between Portland, OR and Seattle, WA, creating the FAS Tactical Training Range, to combine efficiency and realistic challenges for the very best training possible. It is specifically designed to accommodate training for the 360-degree world, with a dark-house for low light training during daylight hours, building mock-ups, reaction targets and more. Our classes are all taught at our tactical training range located 1 1/2 hours north of Portland, OR or 2 hours south of Seattle, WA. This is where all of the classes listed on this website are taught. The range is not open to the public except for participants in the classes and organized activities described on this website.
If you are on active duty with our nation's military forces, we direct your attention to our offer to help with your training and preparation. Please visit this page "For Military."