Current Class Offerings
The short descriptions below provide a comprehensive snapshot of the many, many programs taught at the Firearms Academy of Seattle, Inc. Please see our Where Should I Start My Training page or contact us for a custom training plan. The starting points for our curriculum are indicated below.
For more details or to register for the classes below, please click on the title, which links to the full class description and will give you information about prerequisites, tuition costs, equipment lists and a lot more. 
Jump to: Handgun, Rifle, Shotgun, Other Topics, Special Interest Seminars, or Guest Instructors.

In 2018, voters approved Initiative 1639, which among other things, requires any person who desires to purchase a semi-automatic rifle in the state of Washington, to have taken a firearms safety training course. This special class has been developed and is being offered to satisfy this need. Course content includes Basic Firearms Safety Rules, Firearms and Children (including secure gun storage and talking to children about gun safety), Firearms and Suicide Prevention, WA State Use of Deadly Force Law, Secure Gun Storage (to prevent unauthorized access and use), Safe Handling of Firearms, and State & Federal Firearms Laws (including prohibited firearms transfers). Proof of training to satisfy the requirements of I-1639 will be provided at the end of the 4-hour course of instruction. Click on the class title above for class dates and to see the full course description. Cost: $50.00
Handgun

Our affordable Intro to Handguns class consists of six hours of classroom and range training designed to teach the armed citizen how to safely handle handguns, the laws regarding use of a handgun for self-defense, and the laws regarding carrying and possessing handguns in Washington. After class students have the option to stay for an added session about selecting a gun that will fit properly and work well for the individual. Pre-registration strictly required. Click on the class title above for class dates and to see the full course description.
Continuing where our Level 1: Intro to Handguns class left off, this new class for 2020 focuses on marksmanship fundamentals and manipulations of defensive handguns. We will be working from the bench so a holster is not required. This class is for those students who want a refresher or to get more familiar with basic manipulations and fundamentals before continuing their training. We will be on the range for the majority of class focusing on safety, handgun manipulations, accuracy, and other skills that will prepare students for future classes.
Topics of instruction include: Firearms safety, types of handguns, loading and unloading, reloads, eye dominance, stance, grip, sight alignment, trigger control, follow through, presentation from ready positions. Lunch lecture will be on holster and gear selection for carry or training.
Eight hours of training and information for the civilian who is preparing to carry a concealed handgun for protection. Building on information taught in Intro to Handguns (this class is a non-negotiable pre-requisite for participation), students explore self-defense and concealed carry handgun skills, holster selection and carry methods, drawing from concealment, concealed carry wardrobe options, reloading and malfunction clearing, ammunition selection, and a variety of marksmanship skill building drills. Click on the class title above for class dates and to see the full course description.

Two days of range instruction teach the techniques of defensive handgunning covering handgun accuracy for self defense, safe draw stroke, reloads and malfunction clearing, low light shooting, shooting at moving targets, shooting while moving and shoot/don't shoot scenarios. Classroom discussion covers gun safety, legal considerations concerning use of deadly force, crime awareness, preattack indicators, aftermath issues including role play instruction on interacting with law enforcement. Click on the class title above for class dates and to see the full course description.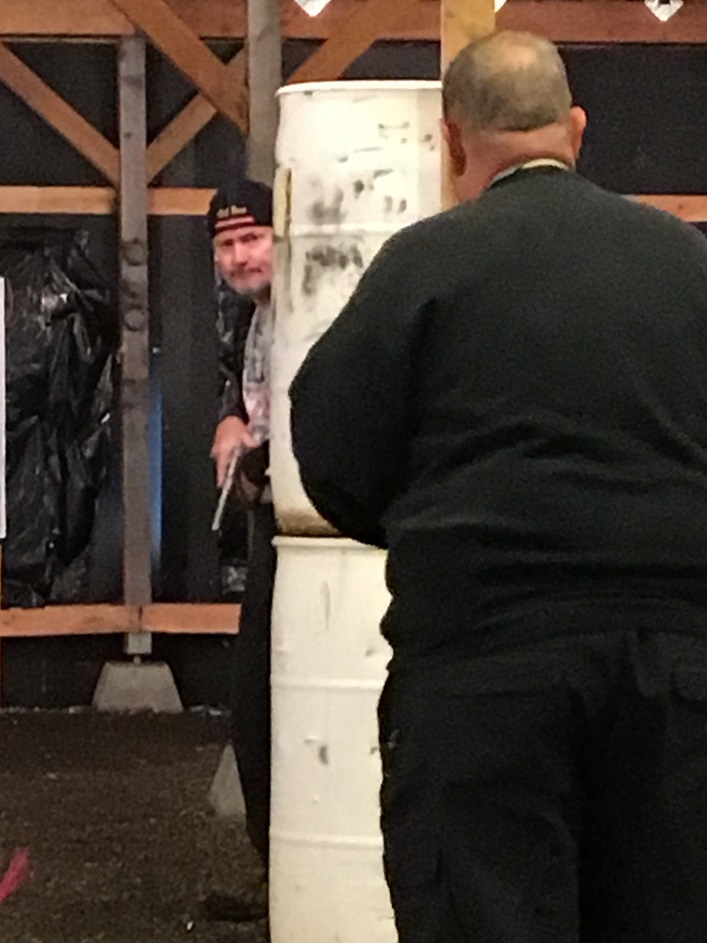 Building on the skills learned in Defensive Handgun, Tactical Handgun exposes the student to life-saving tactical principles such as 360-degree target engagement, multiple targets, moving targets and shooting while moving. Also included in this two-day course are the subjects of building search principles both in daylight and low light conditions, taking criminal suspects at gunpoint and understanding the Tueller Principle. Click on the class title above for class dates and to see the full course description.
This class is specifically geared to prepare students for the possibility of defending against an active shooter in an urban environment and will involve shooting exercises designed to test skills necessary for active shooter interdiction, along with force on force training to prepare the armed citizen to be able to respond as effectively as possible if they ever have to face an armed assailant bent on shooting numerous victims. The class will also address the legal issues involved in this type of a defensive handgun use. Click on the class title above for class dates and to see the full course description.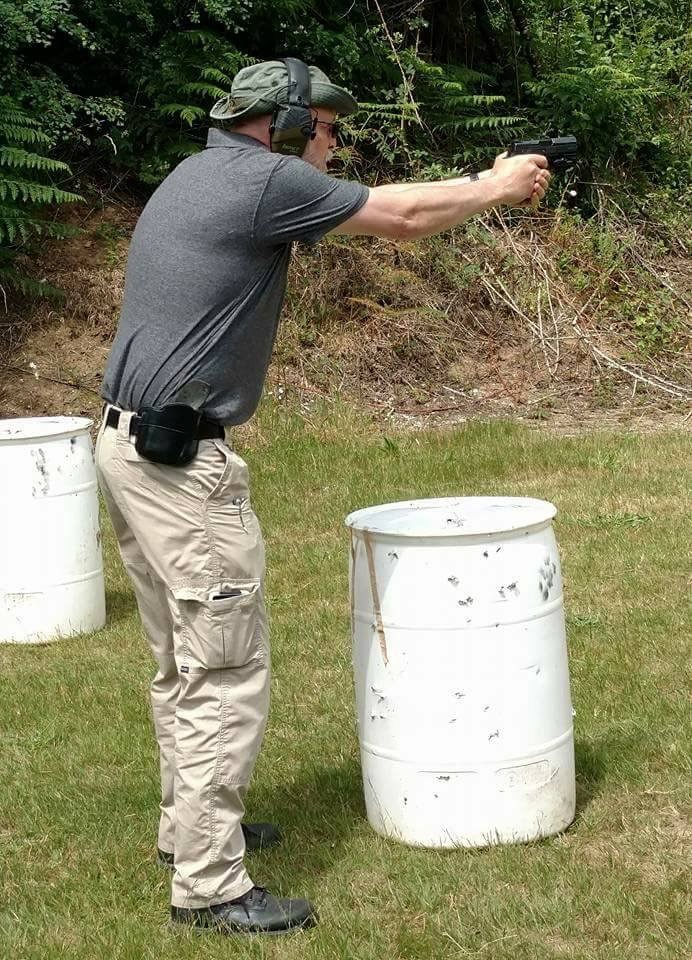 Intensive three day class combines advanced gun handling skill development with advanced tactical decision making, and includes high-speed handgun shooting and tactical decision making taught through role-play in preparation for defending one's actions in court. It is the culmination of Firearms Academy's handgun training curriculum. Students will also test their skills against the FAS Handgun Master test at the end of the first day. Click on the class title above for class dates and to see the full course description.

Combining the curriculum of Level 2: Defensive Handgun and Level 3: Tactical Handgun classes, along with the Special Interest Seminar Wounded/Downed Defender into a very worthwhile, week-long training course for the student who can take a full week away from their jobs and families. Click on the class title above for class dates and to see the full course description.
For over 30 years, F.A.S. Director Marty Hayes has been teaching basic and advanced handgun skills, both to private armed citizens, law enforcement and military personnel. Beginning in 2008, Mr. Hayes decided to start sharing the knowledge developed while teaching over 20,000 people how to shoot (or how to shoot better), in hopes of sharing what he has learned (and what has made him one of the premier instructors in the nation) with the next generation of instructors.
Prospective enrollees in this class should possess a firm understanding of defensive handgunning developed from prior training courses they have taken as students. The amount of training they have received should exceed 100 hours, although this requirement is not hard and fast. Students should also currently be teaching defensive handgunning skills to either law enforcement personnel through their agencies, or to armed citizens through a commercial school or at an established gun range.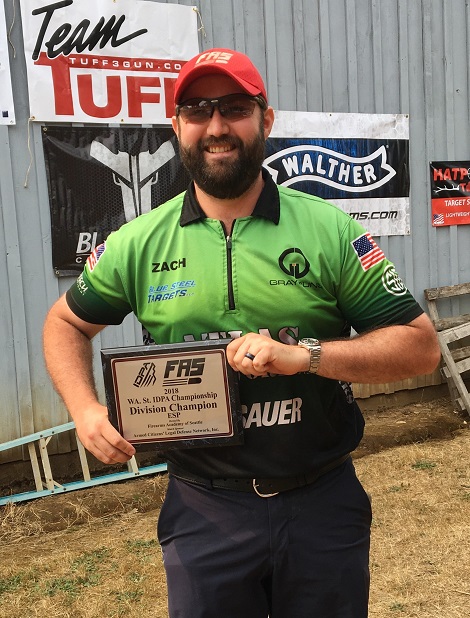 Taught by Zach Campbell (an IDPA multiple handgun Master and several time WA State Champion) this three-day, 1,000 round count course will take the Marksman's or Sharpshooter's performance to the next level (or even next two levels!). For Experts, no guarantee to get you to Master, but we will try! Enrollment limited to the first 12 sign ups. Must be an IDPA member AND hold at least a Marksman classification to participate. This is not a beginner-level class. Click on the class title above for class dates and to see the full course description.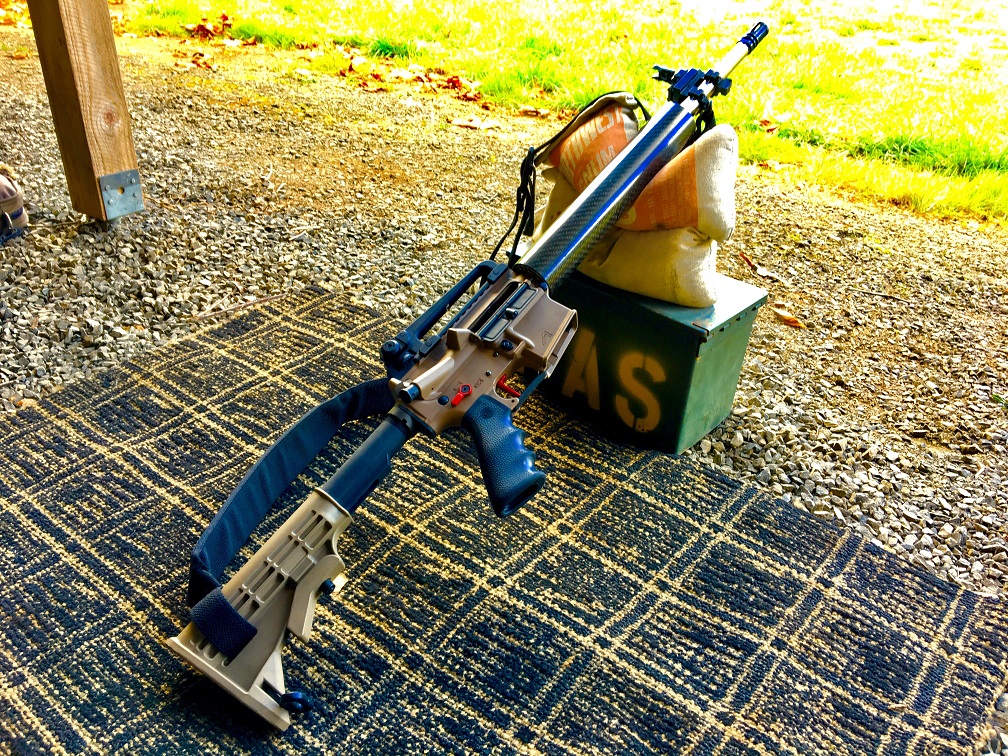 A one-day training course covering a broad range of topics dealing with general rifle or carbine use. Designed for the student who has little or no experience shooting rifles or carbines, class starts at the beginning with basic rifle marksmanship principles, sighting in and establishing a "zero" for your rifle, plus rifle maintenance and cleaning, and moves on to different shooting positions and various distances. Click on the class title above for class dates and to see the full course description.


Tactical Rifle is geared for the patrol officer or armed citizen wanting to increase proficiency with the semi-auto rifle/carbine. Instruction includes use of cover, multiple targets, rapid fire, long range shooting (out to 200 yards), malfunction clearing, speed reloading, moving and shooting and shooting on moving targets, along with use of the rifle in low-light environments. Click on the class title above for class dates and to see the full course description.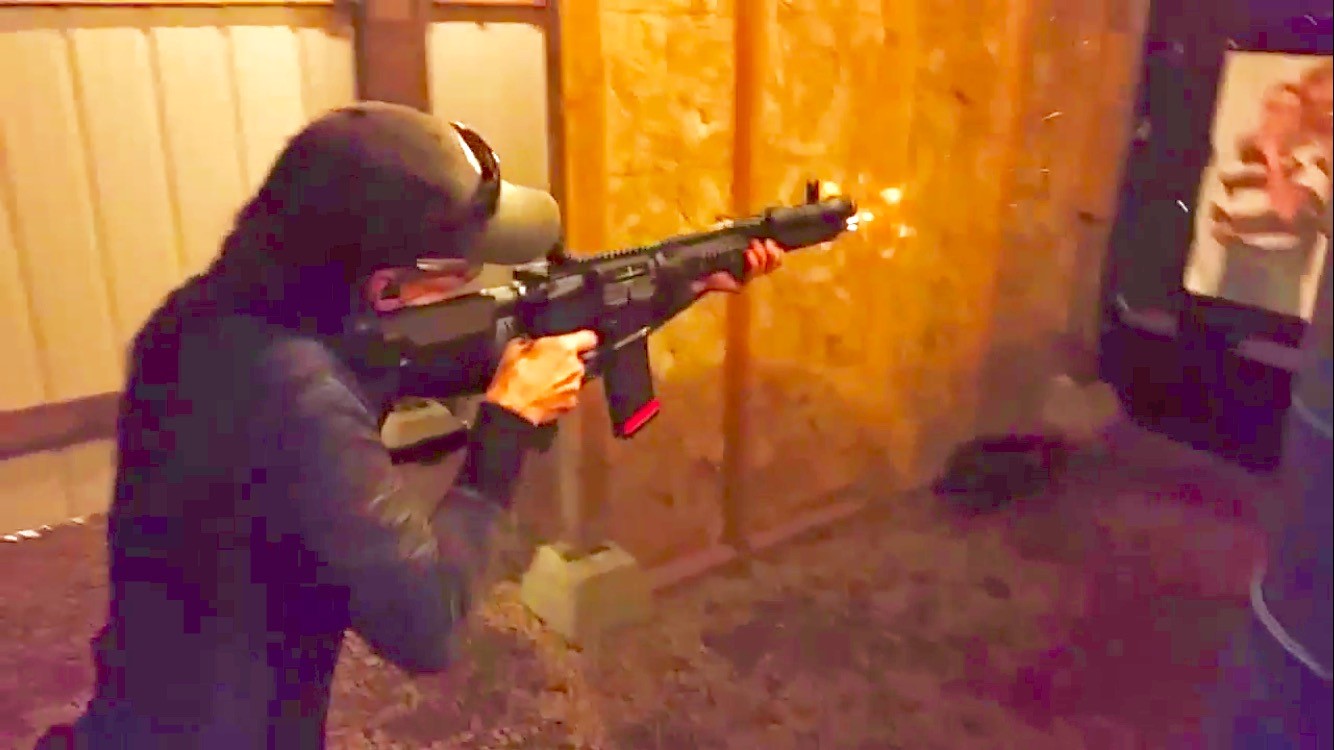 Close Quarters Carbine, introduced first in 2007, centers on using the .223 semi-auto carbine in close-range encounters, from 3 to 25 yards. Subject matter includes movement, moving targets, 360-degree awareness and target engagement, along with multiple targets, low light shooting, search techniques, transition to handgun and hostage rescue concerns. Use of cover and stress exercises are also included. Click on the class title above for class dates and to see the full course description.


We have combined our Precision Rifle 1 and Precision Rifle 2 classes into one intensive, 3-day course of instruction. By combining sessions we do not have to spend a half a day on review and re-zeroing, and with the new improved rifle ranges, we should be able to accomplish all we did before with this one course. Click on the class title above for class dates and to see the full course description.
Shotgun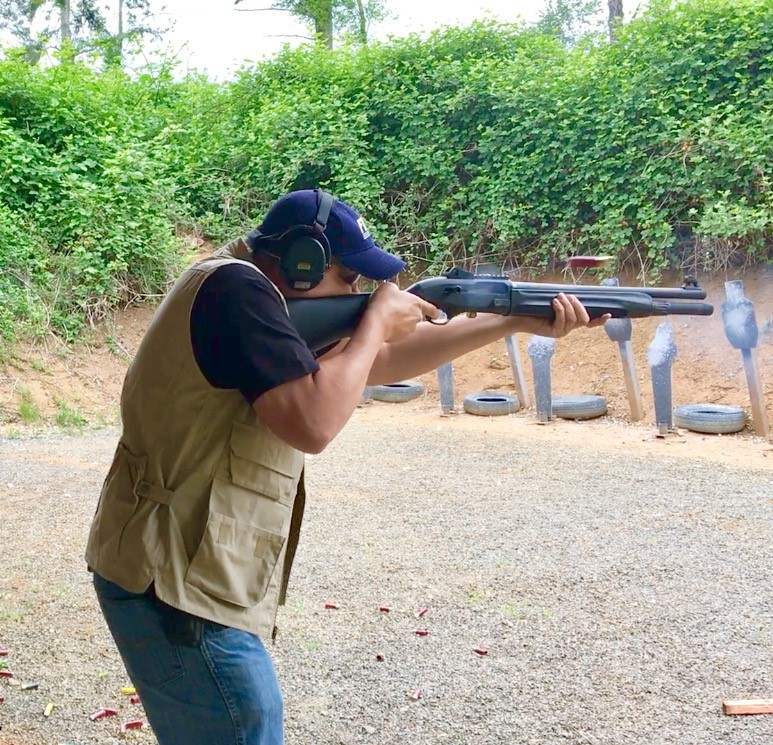 Many myths surround the combat shotgun. This eight hour course will dispel these myths, replacing them with the correct knowledge and skills necessary to use the shotgun for self-defense or law enforcement duty. Click on the class title above for class dates and to see the full course description.
Training in long range shotgunning, moving targets, transition from shotgun to handgun, multiple targets, multiple hits, low light, use of horizontal and vertical cover both strong side and weak side, dynamic search techniques, moving and shooting and man-on-man competitions, leading to true mastery of the combat shotgun. Click on the class title above for class dates and to see the full course description.
For students who have successfully completed our Advanced Defensive Shotgun and want to explore the use of the shotgun for urban conflict further, we offer this third level course. In it will concentrate on perfecting our close range skills, and spend a large amount of time moving and shooting, taking cover and shooting, shooting in low light and practicing dynamic search techniques, including decision making drills and shoot/no-shoot scenarios. Program also includes our challenging FAS Shotgun Master Test. Click on the class title above to see the full course description.
Other Topics

Do you know how to defend your handgun against a large, aggressive attacker or what to do if a street thug sticks a gun in your face during an assault and threatens to blow your head off? The answers are the basis of this one-day seminar. Click on the class title above for class dates and to see the full course description.
An extension of our popular Handgun retention and disarming class, students will get a review of the core handgun retention and disarming techniques. Also covered: long-gun retention and disarming, dynamic non-scripted attacks to drawn and holstered gun, defending against multiple attackers, and low light retention. Click on the class title above for class dates and to see the full course description.

An eight hour course in the use of the Kubaton mini-baton and oleoresin capsicum spray for self-defense, including when  pepper spray is effective and when it is not, footwork, tactics and practice with inert spray canisters. Click on the class title above for class dates and to see the full course description.

What can be done to staunch life-threatening blood loss and similar injuries after you have stopped the attack against you or against a loved one or companion? The program begins with an introduction to the mindset for seeing traumatic injuries and breaking the tunnel vision so you can treat those injuries. Learn to recognize injuries and triage them by severity and treat them without wasting precious time. You will get to see and use equipment that is cutting edge for trauma care. This class will not only help you but your family also as injuries can occur anytime and anywhere. Click on the class title above for class dates and to see the full course description.
It is one thing to carry a firearm for protection but it is another to be able to hit the areas on the threat that effect the quickest stop! Having the best knowledge of the equipment to fit your needs and the know-how to use your firearm effectively is critical. In addition to the role of shot placement in stopping an assailant, armed citizens are obligated not to shoot indiscriminately and endanger others. Click on the class title above for class dates and to see the full course description.
Several years ago, F.A.S. introduced a variety of special training seminars, focused in-depth on individual components and ancillary aspects of defensive firearms use. The special interest seminars review and refine skills taught in our weekend courses, and are offered to provide the chance to practice specific skills the student learned in the prerequisite Firearms Academy class, without spending an entire weekend.
These Level 3, one-day, 6-hour seminars are designed for students to practice what they already have been taught in the prerequisite F.A.S. class, but perhaps have not practiced for a while. They are NOT stand-alone training. If you have not met the pre-requisites listed for each seminar, please do not ask for a waiver of the pre-requisite, but rather, we respectfully request that you consider taking the class listed as the prerequisite, as it contains instruction on the topics contained in the Special Interest Seminar, plus lots more. Special Interest Seminars put in-depth focus on individual components and ancillary aspects of defensive firearms use. Seminar emphasis is on skill building and repetition, that the student may gain an appreciable degree of proficiency in the specified skill. The special interest seminars review and refine skills taught in our weekend courses, and are offered to provide the chance to return to F.A.S. for focused practice on specific skills, without having to spend the time to go through an entire weekend class.
Please click on the class titles below for class dates and to see the full course descriptions.
April 18, 2020
Unless you have mastered shooting a handgun without flinching, gaining skills in the other areas of defensive handgun use is very difficult. With this in mind, students are drilled and coached on how to shoot very accurately with the handgun. Not very sexy, but very necessary!
April 19, 2020
This special interest seminar is the most action-packed, full of smoke-and-brass seminar we teach. At completion, the student should be able to do one second draws, double taps in a quarter of a second, and engage 3 targets from the holster in under 2 seconds. Not only pushing the envelope for speed, but also acceptable accuracy, with emphasis on A-zone hits for all shots fired.
July, 12 2020
Shooting at moving targets and shooting while moving are two of the more difficult aspects of defensive handgunning. It is also one that is nearly impossible to practice on a public range, so this special interest seminar gives F.A.S. graduates the chance to refresh these skills under the watchful eye of our instructors.
Oct. 26, 2019
The dirty little secret in defensive handgunning, is that even the gurus at times slip a small gun in the pocket for those times where a full-sized gun just isn't viable. With this in mind, we are going to train with these guns for a hard 6 hours, pushing their capabilities and exploring "pocket gun" tactics.
FAS brings "big names" from the firearms training business to the Pacific Northwest, making it easier for local shooters to receive nationally-recognized training. 2020's guest instructors are Massad Ayoob, Tom Givins, and Steve Fisher. For more details, click on the classes names below.
The Academy is proud to host Tom Givens for the 2020 NW Regional Rangemaster Tactical Conference. This event brings over a dozen well known instructors from across the country to teach a myriad of topics related to self defense.
July 16-19, 2020
A high intensity, four-day, 40-hour immersion course in rules of engagement for armed law-abiding private citizens, emphasizing legal issues, tactical issues, and aftermath management. Classroom topics will include interacting with suspects, witnesses, responding police officers, threat recognition and mind-set, management of social and psychological aftermath after having had to use lethal force in defense of self or others and preparing beforehand for legal repercussions and minimizing exposure to them. Situations in the home, at the place of business, or "on the street" will all be covered.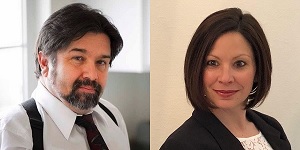 May 2-3, 2020
This two-day seminar teaches how crime happens and the common types of conflict you can find yourself in. This information is essential to understand threat recognition, avoidance, de-escalation, scaling force and justifying your actions to the authorities in the aftermath. Success is more than the actions you take. It's also about the actions you deliberately don't engage in. You'll learn which actions escalate a situation and destroy your self-defense claim. This course complements your existing knowledge. Physical skills are critical, but there's more to safety and staying out of prison for defending yourself.
Taught in person by Marc MacYoung and Jenna Meek.
July 21-23, 2020
This is an intensive full three day (24 hours total) course that teaches candidates: modern adult learning theory; preparation, delivery, and documentation of training; development of training aids, including power points and others; coaching methodologies, diagnosing and correcting shooters' errors; modern, effective gunhandling techniques, designed to work under stress; proper handling/operation of a variety of handgun types; and effective, efficient combat marksmanship techniques.
The course time is divided about equally between classroom sessions and range firing, and each student will fire approximately 1,000 rounds of ammunition. Students will act as coaches for other students, and each will be coached extensively in turn. Students also receive a 200+ page training manual, which is a valuable information and reference resource. To graduate from this course, students must pass a shooting qualification and pass a written examination.
July 27-28, 2020
The Advanced Firearms Instructor course picks up where day three of the basic instructor course ends. If we had five full days the advanced instructor course would be days four and five of the process. By making this a separate course the students can practice the skills learned, absorb the material covered in the basic instructor course and be ready to learn a whole new set of skills.
In the instructor course we have already covered the academic side of marksmanship and adult teaching methodology and given the students a thorough grounding in pistol marksmanship. In the advanced class this allows us to push students to even higher skill levels on the range. In the classroom we will cover subjects including different scoring methods; target design; course of fire design; instructor liability and how to limit it; and some of the psychological issues involved in teaching people how to fight for their lives.
July 24-26, 2020
We try to keep the Tactical Conference centrally located in the US, so that as many practitioners as possible may attend. That's why it is usually in Memphis, Little Rock, Dallas, or other central location. There are a number of committed students of The Art in the Pacific Northwest, which is still a really long way from Tennessee, Arkansas, or Texas. To accommodate them, we will be holding a regional conference at The Firearms Academy of Seattle (FAS) in July 2020. FAS is located between Seattle, Washington and Portland, Oregon, and is a very nice training facility with numerous ranges and a modern classroom.
The dates are July 24-26, Friday through Sunday. This will be a smaller event than the national conference, with about 100 attendees, plus staff and trainers. We have an impressive array of trainers presenting two hour and four hour blocks of instruction, including live fire with handgun, shotgun and carbine; classroom instruction on a variety of topics; and hands-on training in empty hands skills and immediate trauma care. The trainers include Tom & Lynn Givens, Massad Ayoob, Marty Hayes, John Holschen, Lee Weems, John Hearne, John Murphy, Gabe White, Tiffany Johnson, Karl Rehn, Cecil Burch, William Aprill, Sherman House, and Belle McCormack. That's over a dozen well respected trainers presenting instruction over three full days of training! There will also be a defensive pistol match concurrent with the training events. Advance registration is required.
The trainers present two hour to four hour blocks of instruction in their area of expertise. You may attend whichever blocks you desire, and as many blocks as time allows over a three day period. Attendance is open to adults who believe competent training is important and who wish to advance their knowledge of the defensive arts.
Oct. 9, 2020
This class answers the question of why for the shooter looking to become more proficient in the practical use of Red Dot Sight (RDS) pistols and their practical application. This class will bring the new or experienced shooter up to speed on latest methods of shooting the RDS pistol in the most effective and efficient ways possible. Loaner RDS pistols will be available for use with prior notice by students.
Oct. 10-11, 2020
This class is geared toward novice to experienced shooters who are already familiar with their rifles and are looking outside the basic classes to tune up their carbine skills. At this level we expect students to have an understanding of weapon manipulation and most importantly muzzle awareness and safety. This course balances the speed and accuracy requirements many seek. There is heavy emphasis on accuracy and timed standards and weapons flow (this course can and will be tailored up to the skill levels of students attending as needed).
Monday, Oct. 12, 2020
An entry-level course where students are familiarized with their shotguns. This class is geared toward those with training outside the basic classes from novice to the intermediate shooter, looking to tune up some skills. Even at this early level, we expect students to have an understanding of various methods of reloading, weapon manipulation and most importantly muzzle awareness and safety.
---
Pre-registration required for all classes.
To register, please follow one of the links above to register online or call us at 360-978-6100.
Want to learn more?
Call us at 360-978-6100 or contact us at The Firearms Academy of Seattle, Inc. with your questions or click on "Class" links above.