Level 3: Tactical Handgun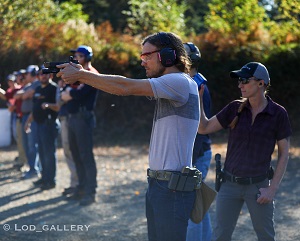 This 2-day course picks up where Level 2: Defensive Handgun leaves off and goes more in depth into aspects of concealed carry and home defense. 

Range instruction includes:
Mid- and Long-Range Accuracy Drills
360-Degree Awareness and Handgun Drills
Hostage Rescue Drills
Low Light Training with Flashlights
Building Search Technique with and without Flashlights
Moving and Shooting at Multiple and Moving Targets
Classroom instruction includes:
Taking Criminal Subjects at Gunpoint
Understanding the Tueller Principal (Students Participate in and Record Times, Can Be Videoed)
Role Play Exercises
Prerequisites: Completion of the FAS Level 2: Defensive Handgun. If you have not taken Defensive Handgun in the past few years, we recommend retaking before signing up for Tactical Handgun.
Student will be required to present a state-issued license to carry a concealed handgun, military or police identification, or other form of background check prior to participation.

TUITION: $525
$100 discount for retakes. Must register by phone to receive discount.
Tactical Handgun Equipment List:
Your own handgun, 9mm or larger
Three magazines or speedloaders, plus a belt holder or pouch for them.
Holster with covered trigger guard (no fanny packs, appendix holsters, shoulder holsters or soft, collapsible inside-the-pants holsters, please)
500 rounds of full metal jacket (FMJ) or jacketed hollow point (JHP) ammunition
Ear protection and wrap-around safety glasses (eye protection)
A billed baseball cap
Small, tactical flashlight
A pen and notebook
A set of kneepads
Your lunch and beverages--we will eat during classroom lecture.
Venue - Firearms Academy Range
Please note that this is a private range.  There is no public access, other than for scheduled classes / events.  This email address is being protected from spambots. You need JavaScript enabled to view it. for driving directions, information about the range, or lodging recommendations.