Level 1 Rifle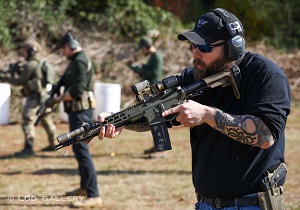 Level 1 Rifle is a 1-day training course covering a broad range of topics dealing with general rifle or carbine use.

Designed for the student who has little or no experience using rifles or carbines, we will start at the beginning with basic rifle marksmanship principles, sighting in and establishing a "zero" for your rifle. Then, after students are comfortable with the operation of their rifles and are sighted in, we will progress into different shooting positions and targets set at varying distances. Day ends with optional rifle maintenance and cleaning.

Any modern production rifle is allowed in this course, including pistol caliber carbines, lever action rifles, and bolt action rifles.

Tuition: $250
$50 discount for retakes. Must register by phone to receive discount.
Level One Rifle Equipment List
A modern production rifle.
150 rounds of ammunition
Gun cleaning supplies
Ear protection, wrap-around safety glasses (eye protection) and a brimmed ball cap.
Notebook and pen
Please bring a sack lunch and beverages--we will eat during classroom lecture.
Venue - Firearms Academy Range
Please note that this is a private range.  There is no public access, other than for scheduled classes / events.  This email address is being protected from spambots. You need JavaScript enabled to view it. for driving directions, information about the range, or lodging recommendations.