Level 1: Rifle Marksmanship Fundamentals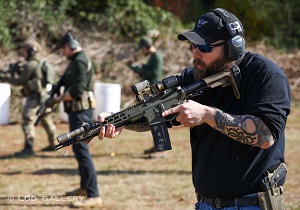 Rifle Marksmanship Fundamentals, formerly Level 1 Rifle, is a 1-day training course covering zeroing, trigger control, position shooting, and general rifle or carbine use.
We will cover the positions used in the "Marksmanship" portion of our FAS Rifle Master Test and will shoot this portion with no time limit at the end of class.
Any modern production rifle or carbine may be used in this class including any bolt action, semi auto, or lever action rifles as well as pistol caliber carbines or rifles chambered in 22LR. Contact us if you have any questions.
If you are new to your carbine, taking this course in combination with Carbine Fundamentals will get you ready for our level 2 classes.

Tuition: $250
$50 discount for retakes. Must register by phone to receive discount.
Level One Rifle Equipment List
A modern production rifle.
150 rounds of ammunition (minimum)
Sling (recommended)
Ear protection, wrap-around safety glasses (eye protection) and a brimmed ball cap.
Notebook and pen
Please bring a sack lunch and beverages
Venue - Firearms Academy Range
Please note that this is a private range.  There is no public access, other than for scheduled classes / events.  This email address is being protected from spambots. You need JavaScript enabled to view it. for driving directions, information about the range, or lodging recommendations.