Level 1: Carbine Fundamentals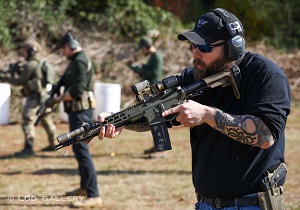 Carbine Fundamentals is a 1-day training course covering a broad range of topics dealing with general rifle or carbine use.
**New Class for 2024**
Designed for the student who is new to the AR15, or other modern production carbine, we will start at the beginning with basic carbine manipulations and sight in to establish a good point blank zero. Then, we will work mechanical offset, shooting stance, recoil management, multiple shots, and multiple targets. Time permitting, we will also do an introduction to clearing malfunctions.
Any modern production carbine is allowed in this course, including pistol caliber carbines although a lot of the instruction will be based around the AR15 platform.
Taking this course in combination with Rifle Marksmanship Fundamentals will get you ready for our level 2 classes.

Tuition: $250
$50 discount for retakes. Must register by phone to receive discount.
Level One Rifle Equipment List
A modern production carbine (AR-15 or AK type preferred)
Irons, Red Dot, or Low Powered Variable Optics are all acceptable for this class
Manual and/or zeroing information for your sighting system (Recommended)
At least 3 magazines (More if running low-cap mags)
200 rounds of ammunition (Minimum)
Rifle sling
Kneepads (Optional)
Electronic hearing protection, wrap-around safety glasses (eye protection) and a brimmed ball cap.
Notebook and pen
Your lunch and beverages
Venue - Firearms Academy Range
Please note that this is a private range.  There is no public access, other than for scheduled classes / events.  This email address is being protected from spambots. You need JavaScript enabled to view it. for driving directions, information about the range, or lodging recommendations.