Tactical Rifle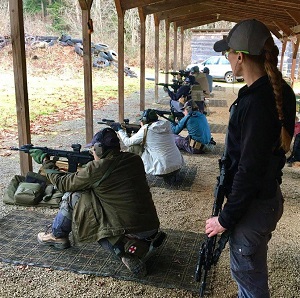 Tactical Rifle is a 2-day course, geared for the patrol officer or armed citizen wanting to increase proficiency with the use of the semi-auto rifle/carbine. Instruction includes use of cover, multiple targets, rapid fire, long range shooting (out to 200 yards), malfunction clearing and speed reloading, moving and shooting and shooting on moving targets, along with use of the rifle in low light environments. Students also take the challenging FAS Rifle Master Test at the end of the second day.

Pistol caliber carbines are NOT suitable for this class. We highly recommend a .223 caliber rifle of the AR-15 configuration, though semi-auto rifles of other make have done well in our rifle training. Combat type of scope such as the ACOG is acceptable, along with iron sights, of course. Iron sights do not have a disadvantage in this course.

Prerequisites: This is a Level 2 class. Please consult the course descriptions for the Level 1 Rifle course before enrolling in the Tactical Rifle Course. While students are welcome to start their training with the Firearms Academy of Seattle, Inc. at Level Two, they must have a firm grasp and understanding of the curriculum of our Level One courses.
Student will be required to present a state-issued license to carry a concealed handgun, military or police identification or other form of background check prior to participation.

TUITION: $450
$100 discount for retakes. Must register by phone to receive discount.
Tactical Rifle Equipment List:
Semi-automatic rifle with at least 5 magazines. .223 rifles of the AR-15 configuration do best in this class, though others have done all right. Fixed sights operate on parity with optics in this class.
600 rounds rifle ammunition.
Rifle sling.
Ear protection (you may want plugs and ear muffs) and wrap-around safety glasses (eye protection)
Kneepads.
A billed baseball cap
Clothing appropriate for a considerable amount of time outdoors.
A pen and notebook
Your lunch and beverages.
Notes: If your rifle is equipped with an optical sighting device, please bring the owner's manual for the device to aid in sight-in and adjustments.
Venue - Firearms Academy Range
Please note that this is a private range.  There is no public access, other than for scheduled classes / events.  This email address is being protected from spambots. You need JavaScript enabled to view it. for driving directions, information about the range, or lodging recommendations.