Intro to IDPA Seminar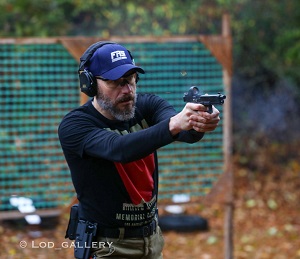 Many of our students ask how they can get started with competition pistol shooting. Among other shooting sports, although IDPA itself doesn't have minimum requirements to participate, we understand our students would like to be more prepared before going to their first match. This special interest seminar will give you an introduction to IDPA match and equipment rules along with covering the basic shooting principles that you generally find at matches: Drawing from concealment, reloads, multiple targets, movement, shooting while moving. After covering these skills, we will shoot the IDPA 5x5 classifier and a 4-5 stage match.
**We do not currently have this class on the schedule for 2022 or 2023. Please check back for future dates**
FAS has a long history with IDPA as we are club number C0023 and have been an IDPA club since IDPA was founded back in 1997. We hosted the first Washington State IDPA champion ship back in 1997 and hosted it in 2018, 2019, and 2020.
We also offer a longer, 3-Day IDPA Bootcamp class which covers this topic in greater detail.
If you have any questions, please contact us before registering. The IDPA rule book is available at the IDPA website:
https://www.idpa.com/idpa-matches/idpa-match-rules/
Pre-Requisite: You need to proficient with safely drawing from a holster. While our minimum recommended pre-req would be Level 1: Concealed Carry 101, students who have been through our Level 2: Defensive Handgun.
Enrollment limited to the first 8 sign ups. Must be an IDPA member and you do not need to be classified. 
TUITION: $175
No Retake Discounts on Seminars
Equipment List:
IDPA-legal handgun
At least three magazines or speedloaders (5-6 or more would be best), plus a belt holder or pouch for at least two mags or speedloaders depending on your division.
IDPA-legal holster with covered trigger guard (no fanny packs, shoulder holsters, small-of-the-back (SOB) holsters or soft, collapsible inside-the-pants holsters, please)
300 rounds of full metal jacket (FMJ) ammunition (minimum)
Electronic hearing protection (preferred) and wrap-around safety glasses (eye protection)
IDPA Cover Garment
A billed baseball cap
A pen and notebook
Your lunch, snacks, and beverages.
Details
| | |
| --- | --- |
| Event Date | 03-05-2022 9:00 am |
| Event End Date | 03-05-2022 5:00 pm |
| Capacity | 8 |
| Cut off date | 03-03-2022 1:00 pm |
| Individual Price | $200.00 |
| Location | Firearms Academy Range |
Venue - Firearms Academy Range
Please note that this is a private range.  There is no public access, other than for scheduled classes / events.  This email address is being protected from spambots. You need JavaScript enabled to view it. for driving directions, information about the range, or lodging recommendations.