Close Quarters Carbine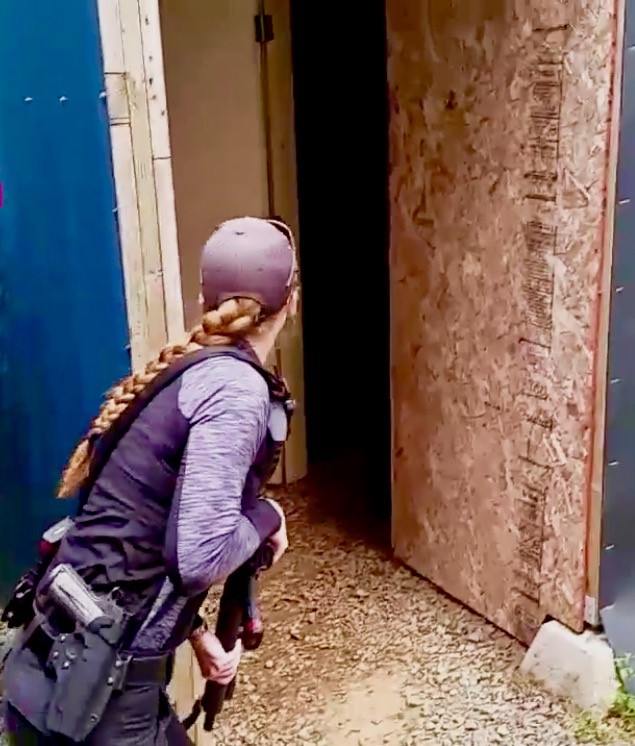 This two-day course is our third level rifle offering, and is designed to train the student in the use of the rifle/carbine in "urban, inside the house or across the street situations," primarily distances from 3 to 25 yards.
Subject matter includes movement, moving targets, 360-degree awareness and target engagement, along with multiple targets, low light shooting, search techniques, and moving and shooting in the dark. We also include transition to handgun drills and other stress exercises in this course.
Prerequisite: Successful completion of our Level 2: Tactical Rifle course along with Level 2: Defensive Handgun. NOTE: We cannot waive these prerequisites due to the complex nature of the drills and scenarios the student will be asked to participate in.
Note about .308 caliber rifles in Close Quarters Carbine class: There is a component of this class incorporating extremely rapid fire/high round count firing drills, and we believe the .308, while a great battle rifle cartridge, is not suitable for this class due to the recoil of the rifle and the effect it has on the shooter in these particular drills. We strongly urge a .223 caliber rifle, but if you choose to go with the .308, at least have the good sense to get a PAST recoil pad for your shoulder! Additionally, lever action or bolt action rifles are not suitable for this course.
TUITION: $425
$100 discount for retakes. Must register by phone to receive discount.
Close Quarters Carbine Equipment List:
Semi-automatic rifle with at least five magazines. We have seen that .223 rifles of the AR-15 configuration do best in this class, though others have done all right, also. Please note that fixed sights operate on parity with guns equipped with optics in this class.
800 rounds rifle ammunition and 50 rds. pistol ammo.
Handgun, belt holster and magazines.
Rifle sling.
Ear protection (you may want plugs and ear muffs) and wrap-around safety glasses (eye protection)
Kneepads.
A billed baseball cap
Clothing appropriate for a considerable amount of time outdoors.
A pen and notebook
Your lunch and beverages.
Note: If your rifle is equipped with an optical sighting device, please bring the owner's manual for the device to aid in sight-in and adjustments.
FAS RIFLE MASTER TEST
Test One: Marksmanship Test 
Test One, Part A: Using BT5S target (either orange insert or gray, students choice) student shoots 10 rounds in 60 seconds prone, (may use sandbag or bi-pod). Move to 50 yard line. 
Test One, Part B: Student shoots 2 rounds standing without support, 2 rounds right side cover, 2 rounds left side cover, 2 rounds kneeling and 2 rounds sitting. Total of 10 shots. Time: 90 seconds 
Scoring: To pass, student must score as follows:
With scoped rifle: 195 points, (Out of possible 200)
With unscoped rifle: 190 points (Out of possible 200) 
Test Two: Close Quarters Carbine Skills 
Test Two, Part A: Using 3 BT5S targets, spaced 2 yards, edge to edge. At 25 yards, student fires 2 rounds at each target, reloads and fired 2 rounds at each target. Total time, 15 seconds. Repeat. Move to 15 yards. 
Test Two, Part B:
String One: Student fires two shots to body and one at head, at first of three targets, in 3 seconds. Then repeat on target two, and repeat on target three. 
String Two: Student fires one shot at each of three targets, in 3 seconds. Repeat 3 times. 
Scoring: To pass Test Two, all hits must be in the 9-ring, with 3 hits in head, (inside the non-scoring border). 
NOTE: 50 rounds total. All shooting starts from low ready (45 degree), safety on, finger indexed on frame of rifle. All timing is done via stop watch, with reaction times not included in times to complete drill.
| Event Date | Capacity | Register |
| --- | --- | --- |
| 04-03-2021 10:00 am | 12 | |
Venue - Firearms Academy Range
Please note that this is a private range.  There is no public access, other than for scheduled classes / events.  Contact us for driving directions, information about the range, or lodging recommendations.